Data shows app creation is a rising trend. At Digital Awesome, we're committed to helping you capitalize on these development possibilities by building innovative, costly solutions. We work specifically in app and web development, and create lasting relationships with clients that keep coming back. We are thrilled to be included in Clutch's list of top development agencies in Washington!
Our CEO had this to say about our involvement on Clutch: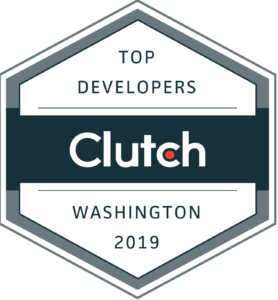 "We are truly honored to receive this award. This is a culmination of hard work by an incredible team. We are fortunate to work with some of the best clients in the world. We are extremely grateful that Digital Awesome is recognized as a leading United States development company."
Clutch is a Washington DC based B2B ratings and reviews platform that works to connect businesses to service providers from any corner of the world. Verified reviews of companies are collected by Clutch analysts to help buyers make the best decisions when finding the best-fit agency for their business needs. Clutch evaluates company work quality, market presence, and client experience when determining reports of industry leaders.
For example, after we performed mobile and web-based app development for a philanthropy organization, the president left a phone review on Clutch.
"I've worked with many dev teams, and Digital Awesome has done a phenomenal job."
            – President, GiveList
In addition, a list of notable clients are found on Clutch's sister website, The Manifest, a business resource that helps firms identify and address their business challenges with how-to guides and industry reports. According to Visual Objects, professional portfolios can also go a long way when buyers are deciding whether to partner with a specific company.
We are thankful to all four of our prior clients who took the time to speak with Clutch honestly about our work together. We could not have received this award without them! We care about our clients and look forward to receiving more 5-star reviews! Feel free to take a look through our blog and discover more about what we can do for you.